Matchday Review Part 1: The Day
An early start. 10 am at the end of London Bridge. The Den is little under an hours walk away. But first, a bacon butty at Maria's Cafe, Borough Market. Bubble and squeak doing a roaring trade, so a mental note made.
Brewery #1: Southwark Brewery
We arrive maybe 5 minutes early, amateurs compared to the gent who arrived just as the door opens. That's the sign of experience. Sadly, this isn't the most auspicious start - the Bankside Blonde is watery and even a bit vinegary.
Brewery #2: Anspach & Hobday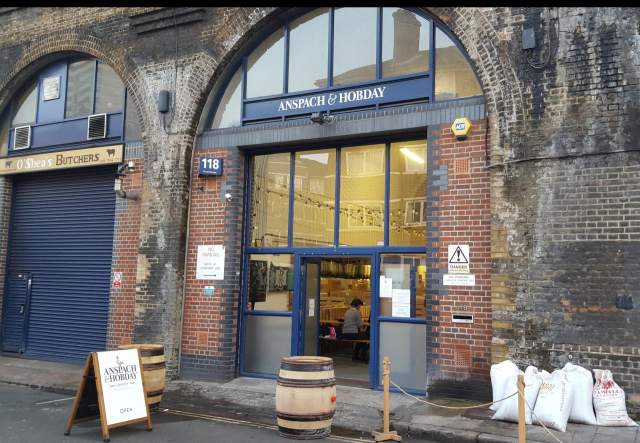 One cask and a selection of kegs. Green goes for the Janus, a dark and smooth brown ale. I pick a pale ale and, christ, there ain't half some hops in that one. Possibly the best beer of the day, and the brewery has the air of a place of work and they've just moved things to one side for the day. Dart board on the wall. Nice touch.
We reverse, slightly. cutting back through the arches to a run of five bars in less than about a quarter mile on the south side of the arches. We plan to do four now and then one on the way back. First up,
Brewery #3: Moor Beer.
A pint of revival each, and the day is starting to warm up. Sitting out on a crisp winters' day, with blue skies and a decent pint of IPA on the go. Bliss.
Brewery #4: London Calling Sweden.
See above. We improvise an outdoors seating area and watch the area slowly grind through its gears as morning becomes early afternoon. Two crisp session IPAs. These last two pubs, side by side, are the best pair, I think, in terms of general ambience. The day is young, the ball has not yet been kicked in anger, and the sky is blue.
Brewery #5: Cloudwater.
HERE BE HIPSTERS. First of all, the biggest serving is a 2/3 pint and its in something you might drink an Old Fashioned from. The squad of metal lads stood by us get around this problem by ordering two halves each. That's the wisdom that comes with a WARBASTARD patch on your sleeveless denim jacket. Second, the If You Listen Carefully New England pale ale isn't a patch on some of the other beers we've drunk or are yet to drink.
Brewery #6: Bianca Street Brewey.
Long Play IPA, two pints, and a solid addition to the list. I think the merits of Bianca street were lost in the churn, the bar's nicely set up and the beer was in the top half of what we drank. However, it is now time to start thinking about the game.
It's a longer walk to the next bit, and we pass some wine and cheese places. Not today, lads, not today. We also walk past The Blue Anchor and The Ancient Foresters which look robust, at best. We've got a 1500 date with The Den.
Brewery #7: Spartan
Except we find another pair of breweries where we hadn't planned to, and Spartan does a River Styx porter. I got an Achilles Heel, which seems apposite. Turns out the brewer is from West Bromwich so we have a bit of a Bathams chat - he gets the prize for friendliest bar staff. I don't think he had much choice in the matter.
The Game.
Well, we got a Greggs near South Bermondsey station and then got to the game just in time for kick off. Let's not waste any time on talking about the football
here
.
Half Time Refreshments.
Not been in a bundle like this since Quad football. Slow service, surges from all sides, and I finally get my pints as the second half kicks off. A Birra Poretti, so points for not going down the obvious choices at the game and, as a cooking lager goes, its a solid one.
Brewery # 8: Partizan Brewery.
As we start our walk back to London Bridge, the sun has started to set and its a notably different crowd at all the bars between here and home. Partizan (two 2/3 of a saison, I could take it or leave it tbh) is rammed, there's a certain sense of a stag do set and the temperature is starting to drop.
Brewery #9: Affinity Brew.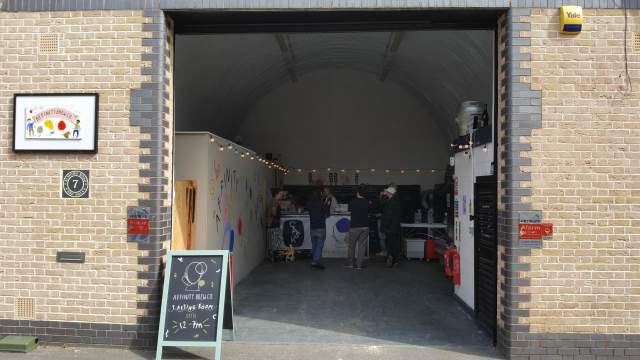 We say hello to our Black Country pal from Spartan next door and go for and Green and I go for a fruity sour and a session IPA respectively. Can't complain about my pint, but we're now definitely making plans to get back to our trains.
Brewery #10: Brew By Numbers
Well, not the best laid plans. I think this place is like Cloudwater, its near neighbour, except its now late and there's a guy who looks like the eldest Hanson brother telling people about his tech start up. Can't complain about the beer and the glass is nice, really nice indeed. Really, really nice.
Pub #1: The Shipwrights Arms
This, in the space of two halves of Hook Norton Old Hooky, has gone onto my list of
Top London Pubs Worth A Sip
. Big central bar, all sorts drinking and huge windows to watch the world go by from.
So, Bermondsey Beer Mile. Job done. It has been an honour.
There's a more thorough guide here:
https://www.bermondsey-beer-mile.co.uk/
.