Reading Football Club News: May 2017
Play-Off Final Defeat: Things We Learned
30 May 2017
By Alex Bower

An exceptional season for Reading FC came to a devastating end on Monday afternoon when they lost the 4th play-off final in their history. Neither Reading or Huddersfield could get the ball in the net in normal or extra time, meaning the dreaded penalty shootout was required to separate the two sides. An Ali Al-Habsi save against Michael Hefele was enough for Reading fans to start believing Premier League football awaited them next season. Unfortunately that was not meant to be with defenders Liam Moore and Jordan Obita both failing to convert their spot kicks.

Here are some of the things that came out of the game.
A Season To Remember

After the dramatic and somewhat depressing end to Monday's final, it may be hard to focus on the positives. The Royals finished third in the league. They beat the favourites for promotion over two legs. They lost the play-off final on penalties. It is something that is going to hurt for a little while yet before focus has to turn to going one step better by achieving automatic promotion next season (as has happened before).

Amidst the disappointment, we must remember the achievements of the players this season to get the club in the position they were. No one expected Reading to be anywhere near the top of the table and fans have Jaap Stam and his squad to thank for that. At times it has not been pretty or exciting to watch but a lot of the time it has been effective. This season was only meant to be the start of a learning curve for the Reading squad as they adapted to the Dutch style of football. Ultimately it nearly became so much more.
Tactical Troubles

Jaap Stam must be praised for his tactics against Fulham in the semi-finals, nullifying the dangerous Fulham attack to good effect. Against Huddersfield, however, that was not the case. From the off, Reading were second best. Huddersfield were seeing the majority of the ball and looked threatening while Reading couldn't string two passes together and were far too narrow.

The press that was highly effective against Fulham was also non-existent at Wembley, with goalkeeper Danny Ward and his Huddersfield teammates allowed all the time in the world to play the ball out of defence. It didn't help the Reading cause that there were a couple of individuals in their ranks that were having particularly poor games and Yann Kermorgant struggled to win his aerial battles against a strong and resolute Huddersfield defence. As time went on the game evened out with both sides lacking quality going forwards. The substitutions of Garath McCleary and Liam Kelly helped the Royals somewhat but it was not enough to help them make a breakthrough.
Sorry Swift

Along with Joey van den Berg, John Swift had a day to forget at Wembley. Unfortunately Swift has been a player I have singled out on several occasions in recent times due to a marked decline in his performances. When it mattered, he still could not conjure up his spectacular form earlier in the season. It is clear that Swift has the ability to be a great player, but has lacked consistency as the season went on. Earlier on in the season he could have taken on defences almost single-handedly. At Wembley he couldn't pass to teammates, got nudged off the ball far too easily and even managed to trip himself up while under no pressure. It has been a time for Swift to forget over the last few months but here's hoping he bounces back from this a stronger player next season.
The Atmosphere

The atmosphere at Wembley was incredible for the Championship play-off final - at least, on one side of the ground... Anyone who goes to the Madejski Stadium knows that the Reading fans are not the loudest. Anyone who went to the Fulham semi-final knows, however, that they are capable of making a heck of a lot of noise when it counts.

With many Reading fans creeping out the woodwork to bring their numbers at Wembley to 39,000, the place should have been rocking. In reality it was at the Huddersfield end from start to finish. Won a corner? The crowd were up on their feet cheering. Won the ball back? Straight back up again willing their team on. It was not the most exciting game to say the least but the Huddersfield fans cheered the entire time while the Reading fans were comparatively lacking somewhat. They say that players feed off the energy their support gives them. If that is the case, Huddersfield's supporters may have given them the edge.
Should I Stay Or Should I Go?

It has only been a matter of hours since Reading's defeat, but talk has already turned to transfers. It is well known that Danny Williams is out of contract and is wanting to play in the Premier League. Based on his performance in the final, he deserves it too.

Unfortunately, Reading are currently not in a position to offer that to him and may not be able to justify his high wage bill for another year in the Championship. It is clear from his reaction after the game on Monday that he loves the club almost as much as the club loves him. That, however, may not be enough.

The other transfer story will inevitably be Jaap Stam. Stam nearly worked a miracle in his debut managing season and has clearly started something special at Reading. Anyone who had their doubts at the beginning of the season will now surely be behind the majority in wanting the manager to be at the club next season. There will inevitably be demand for Stam but he has said that he wants to stay at Reading. Only time will tell but with Stam at the helm and the full backing of the new owners, next season could be even better.
Onto The Next One

This result will take a little while to get over, but there are plenty of positives to take into next season. The most important is that Jaap Stam and his team have instilled belief back into the fan base after a troubling few years. While another year in the Championship may not be what many wanted, it could be a blessing in disguise. If the Royals can keep Stam and the rest of the coaching team in tact, bring in a few new faces and hold onto the majority of the squad then you have to think they have a real chance of challenging again next season. Here's hoping a large proportion of those Reading fans in attendance at Wembley on Monday come along for the ride week in week out.
More Play-Off Disappointment As Huddersfield Go Up
29 May 2017
By Hob Nob Anyone?
Reading suffered more Wembley pain as Huddersfield Town made the leap into the Premier League, defeating the Royals on penalties. After 46 league games, 2 play-off semi-final legs, and 120 more minutes at Wembley, promotion to the Premier League was decided by five penalty kicks each. Huddersfield managed to score four of theirs, while the Royals were on track after scoring the first three only to see Liam Moore's penalty blasted over the crossbar and Jordan Obita's weak effort saved to send Huddersfield up.

Reading's fourth play-off final ended in a fourth disappointment but, despite leading in the penalty shoot out, feelings of inevitability were stronger than those of disappointment as thousands of Reading fans trudged out of the stadium in silence. We seem destined to come out second best in every play-off final, but the Royals had themselves to blame after failing to score, or seriously trouble the Huddersfield goalkeeper after 120 goalless minutes. Unlike the excitement of Reading's previous play-off final appearances, this would have been poor for the neutral, in a game that went long periods without much action as the two teams cancelled each other out. Both sides had moments when they threatened, but by the end of extra time there had been nothing between them. Penalty shoot outs are brutal, but it was the only way to separate two sides.

Both Obita and McCleary were missing from the starting eleven, limiting Reading's forward play, but were included on the bench to be called into action later in the game. At the end of extra time it was Reading that had edged both both possession and shots. However those statistics hide the Terriers better start to the game. It took the Royals a long time to settle down, and they weren't helped by some poor decisions as the linesmen missed both an offside and a Huddersfield player walking the ball off the pitch but being allowed to play on. As Reading struggled to keep hold of the ball they resorted to some heavy challenges to hold Huddersfield back, and that resulted in two early yellow cards for van den Berg and Kermorgant. Huddersfield had created a couple of early chances but failed to find the target with either of them, going wide from close range and high from a header.

Reading weathered the storm and then began to settle down and work their way into the game. Defensive nerves calmed and both Moore and Illori grew into their roles to contain a lively Huddersfield. We began to see more of the ball - a lot of that was thanks to Danny Williams, who was everywhere on the pitch to win the ball back and help calm things down for the Royals. We eventually had long range efforts from Swift and van den Berg but it was a quiet half for Ward in the Hudersfield goal.

The second half saw Reading start on top. Huddersfield had sold out their allocation and packed more supporters into Wembley, with some blocks going unsold in the Royals half of the stadium. However, playing towards their own fans in the second half the atmosphere improved as Reading took control of the game. After a lively start to the second half and after our early match panic, we eventually managed to return to Jaap Stam's style of football with the ball being passed around and the possession stats swinging back in Reading's favour. We struggled to create chances through with a few long passes finding their way out of play. Obita was introduced for van den Berg on 64 minutes and McCleary replaced Grabban ten minutes later. They were sensible substitutions with Reading creating little down the wings and van den Berg always a likely candidate for a second yellow card.

The games between the two sides in the regular season had both been close contests decided by a single goal. At any point during this game a single goal would have won it again. It was nearly Reading that game up with the goods when a cross from the left saw Gunter with a great chance to head Reading into the Premier League - however his effort was narrowly over the crossbar. If only that chance had fallen to Kermorgant then we might be heading for the Premier League. However, extra time seemed on the cards a long time before it eventually got underway.

Liam Kelly was a welcome addition from the bench on 100 minutes replacing John Swift but it failed to swing the game. It was Huddersfield that could have won it before penalties as Wells put his effort just wide of the left post as Huddersfield counter attacked. Although we dreaded penalties it was almost a relief when they did eventually arrive.

Penalties got off to a bad start with Huddersfield winning the first toss of the coin, allowing them to take them in front of their own fans. However, it was Reading that went first, with Kermorgant going first. After a very long wait with the ball on the spot, Kermorgant confidently smashed it into the bottom left corner to put Reading ahead. Danny Williams put his straight down the middle, but thankfully the keeper didn't read it. When Ali Al Habsi dived to his right to save Huddersfield's second kick and make it 2-1 to Reading after two kicks each there was jubilation down the Reading end. When Kelly made it 3-1 the noise was deafening and we were all jumping around like lunatics. Now we really were within touching distance of the Premier League. Huddersfield made it 3-2 before Liam Moore sent the ball over the crossbar and all Reading fans back down to Earth in an instant. Joy turned to gloom in a second. 3-3, with one penalty left each. As if on cue, and to no suprise at all, Jordan Obita's penalty lacked power and was easily saved. Reading fans started leaving even before the last penalty was put past Al Habsi to send Huddersfield up. Huddersfield joy. Reading misery.

And so, Huddersfield have the summer to look forward to the glamour and excitement of the Premier League. Meanwhile, Reading will have to prepare for another season in England's second tier, and hopefully a push for automatic promotion. If we can't go up automatically next year then I'll settle for seventh or below. As long as we can avoid a play-off finish - it never ends well.

If you're looking for odds for Reading getting automatic promotion next then try this William Hill promo code.
Misery Or Joy Waits For Royals At Wembley
25 May 2017
By Hob Nob Anyone?
The whole season comes down to one massive game on Monday, when the Royals head to Wembley Stadium for a 3pm kick-off to face Huddersfield Town in the Championship play-off final. It'll be misery for one half of the stadium and huge joy for the other half. The winning side will head off to the Premier League next season, and earn multiple millions of pounds in the process, while the losers will face another season in the Championship. A defeat will be very hard to take after getting within touching distance of the big time. The play-offs are exciting and cruel in equal measures. But surely after five defeats in the play-offs, three of which came in play-off finals, Reading are due that elusive joy at Wembley this time?

One thing is for certain, whoever comes out top between Reading and Huddersfield Town, they will become a surprise addition to the Premier League. Both sides started the season unfancied after failing to impress last season. Both teams rose high in the table but were still written off. After securing play-off positions they found themselves as outsiders with no-one paying much attention to either side until they upset the bookies and made their way into the play-off final. Reading secured a place in the final, thanks to a Kermorgant penalty, with a dramatic 1-0 home win over Fulham in the second leg. Huddersfield needed a penalty shoot out to edge past Sheffield Wednesday.

The winner of this fixture will be immediately installed as favourites for the drop next season - but will get such a big boost in income next season that it will all be worthwhile. It is a massive opportunity which both sides will be desperate to take. It couldn't be any more 50/50, with neither side a clear favourite. It was Reading that finished higher in the table - two places above Huddersfield - and it was also Reading that knocked out overall favourites Fulham. So, it still seems strange that Huddersfield are slight favourites with the bookies as you can currently see on CrownBet's EFL odds.

Both teams have been allocated approaching 40,000 tickets each for Monday's final after going back to the FA to request more tickets. Huddersfield are set to entirely sell out their allocation despite the inflated ticket prices. The Royals appear to still have tickets on sale having failed to shift all their availability so far. After tickets initially went on sale to season ticket holders and members with points only, they have now been released on general sale where anyone can now snap up a pair of tickets. As was said before day one of ticket sales - anyone that wants tickets will be able to get them without difficulties. Reading fans have until tomorrow (Friday) at 3pm to buy through SEE tickets, and the game could yet be a sell out.

It feels like it has been a long time since Reading fans spilled onto the Madjski Stadium pitch to celebrate victory over Fulham. Reading fans will be hoping it has been long enough for Jordan Obita to make a recovery from the injury he picked up in the first leg. The Royals owe at lot to Obita whose amazing performance in the first leg, including the vital goal in the 1-1 draw, set-up Reading nicely for the second leg. There has been some good news with Obita re-starting training today and Jaap Stam confirming that he may be fit for Monday. So Obita remains a maybe. Meanwhile McShane is a definately not as he remains suspended following his straight red card for a high tackle in the match at Craven Cottage. All the players that earned our place at Wembley last Tuesday will be available for selection - and Gareth McCleary will be back to full strength after returning from injury with an appearance off the substitutes bench during that game.
Reading's Previous Play-Off Final Appearances
Recent Meetings With Huddersfield Town
Second Leg Victory: Things We Learned
17 May 2017
By Alex Bower
On Tuesday evening, Jaap Stam's Reading side proved everyone wrong by securing a place in the play-off final. Ultimately the game was settled by a Yann Kermorgant penalty and some resolute defending from the home side.
Here is what we learned from the game:
Que Sera Sera...

After the last two seasons, no one expected Reading to be anywhere near the promotion places come the end of the season. The Royals continue to be written off but time and time again have shown what they are capable of.
Fulham were the clear favourites going into the play-off semi-finals, with commentary making it sound like there was only ever going to be one winner (and it wasn't going to be Reading).
Instead two strong performances from the Royals mean that they have booked their place at Wembley. Yep that's right. We're going to Wembley!
Will Williams Stay?

The contract discussions with Danny Williams have been a talking point for a while now, but his performances in recent times have meant that it has become all the more important.
Williams has been a standout performer in the play-offs, with many seeing him as a vital player for the squad going forwards. Last night the club announced the new owners are now in place and the team have a great opportunity to make it into the Premier League. Could this mean a new contract is on the horizon?
Takes A Team

One thing that was abundantly clear on Tuesday evening was the team spirit that exists in the Reading squad.

Usually this season, there are a couple of players that standout in a game. The play-offs, however, seem to have brought out the best in the players all over the pitch.
Tiago Ilori hasn't played much this season, but slotted into the defence in place of Paul McShane perfectly. Lewis Grabban has had his critics but demonstrated the threat he could be when played up front. George Evans near single-handedly prevented Tom Cairney from making his usual impact on the game. The list goes on.

What the performance of the team, and these players in particular, showed was the strength in depth this Reading squad has and the belief they have in each other. Outside commentators may like to remark about the lack of quality in the Reading squad, but this season just shows what you can achieve when you all pull together.
What Happened To John Swift?

One player who is a concern, however, is John Swift. While all the other players seem to be stepping up at this crucial time, Swift seems to be going backwards.
Perhaps we have unrealistic expectations of him based on his performances earlier in the season - He is still young after all. That said, everyone knows what he is capable of and his standards have dropped significantly in recent times.
Poor touches, the frequency he lost the ball and the shot fired straight at the goalkeeper from point blank range epitomized Swift's performance on Tuesday evening. Based on his recent performances, I for one would seriously consider playing Williams, Kelly and Evans in the centre of midfield in the final.
Finally An Atmosphere!

One thing you can be certain of is that Reading fans will turn out in mass for big games. Tuesday evening's fixture was the definition of a big game and low and behold the fans came out to support.
There were flags, there was fire but most importantly there was plenty of cheering from the home fans. The atmosphere was unlike anything I had ever witnessed at the Madejski, especially just before kick-off and the closing moments of the game.

Now the aim will be to replicate it all again, this time at Wembley!
Play Off Final Tickets Go On Sale At 9am
17 May 2017
By Hob Nob Anyone?
Tickets for Reading's visit to Wembley Stadium for the Championship play-off final go on sale at 9am tomorrow morning (Thursday 18 May). The Royals will face either Sheffield Wednesday or Huddersfield, who play their second leg this evening, in the final on Monday 29 May. The Royals have a huge allocation of 38,342 tickets - which means that every Reading fan should have no problem getting a ticket.

Ticket sales open tomorrow for all season tickets holders for this season and next season. Season ticket holders will be able to purchase two tickets against their account. Members with over 750 points will also be able to purchase a ticket each.

On Friday morning remaining tickets go on sale to all member card holders with over 25 points who will be able to buy two tickets each. Those with over 50 points can buy four tickets each and season ticket holders who have already purchased tickets will be able to buy more for friends and family.

Tickets are priced in five categories ranging from £36 to £98. With big allocations of tickets for any existing supporters and such a large allocation of tickets available there really should be no problems getting a ticket even if you can't on the Thursday.

Blocks 105 to 108 are allocated at the family area and blocks 109 to 114 are the suggested singing blocks.
Club Sneak Out Takeover Completion News
17 May 2017
By Hob Nob Anyone?
The club picked the night of Reading's epic play-off semi-final victory over Fulham to sneak out news that the Chinese takeover had finally been approved by the Football League and had completed. The news was released at the most bizarre time possible, during the game itself, and was of course completely overshadowed by Yann Kermorgant's penalty sending the Royals to Wembley on 29 May 2017. It is not clear why the club appear keen to keep the deal under the radar but it certainly felt as if they were trying not to draw attention to the takeover. The deal is massive news for Reading Football Club but was, as you would expect, immediately submerged by reporting on Reading's massive victory and shot at the Premier League a week Monday.

The core of the takeover detail was revealed in very few words: "Reading Football Club are delighted to confirm that Chinese brother and sister, Dai Yongge and Dai Xiu Li, have become the majority shareholders at the club. Our existing shareholders will retain a minority shareholding in the club. The club have gained EFL approval for the change in majority shareholder and our new Chinese shareholders have taken up their position at Reading Football Club. "

It is well known that the Dai's have already contributed financially to the Royals this season, lending the club money in time for the January transfer window ahead of the takeover going through. That loan appears to signal that the Chinese are happy to invest into the club.

The club statement also contained support from Nigel Howe to tell Reading fans the takeover is a good thing for the club: "Dai Yongge and Dai Xiu Li are investing in a club with undoubted potential - investment which will benefit not only the first team squad, but which will also help to improve the club's training facilities, continue to support its Category One Academy programme and actively assist in delivering plans to develop the Royal Elm Park proposal. We are very pleased to welcome them to Reading."

The Football League have also released a short statement to confirm the takeover: "The EFL can confirm that they have no objections to the change of control application made by Reading. Following a full review of the transaction, the EFL has insisted upon - and the club/new owners have agreed - to a number of additional reporting requirements including enhanced financial monitoring, so as to ensure that their performance is consistent with the application we have considered. We would like to wish the new majority shareholders Mr Yongge Dai and Miss Xui Li Dai the very best of luck in their future endeavours with the club."

If things go Reading's way on 29 May, Dai Yongge and Dai Xiu Li will find themselves in control of a Premier League club. It is will be interesting to see the level of investment either way.
Kermorgant Penalty Fires Reading Into Play-Off Final
16 May 2017
By Hob Nob Anyone?
On a truly memorable evening at the Madejski Stadium Reading rose to the occasion to overcome favourites Fulham and progress to within touching distance of the Premier League. Yann Kermorgant's forty-ninth minute penalty gave Reading a deserved lead setting up an almost unbearably tense second half as a talented Fulham side threw everything at Reading in search of an equaliser which never came. Ultimately it was a magnificent disciplined defensive display which secured their place in the Championship Play-Off Final. At the final whistle jubilant home fans swarmed all over the pitch in spite of futile attempt by stewards to keep them in their seats. They were not going to be denied their moment of celebration, and rightly so because they too had been magnificent throughout.
Read More...
Play-Off Second Leg: Huge Night Ahead
16 May 2017
By Hob Nob Anyone?
They don't come much bigger than this. Reading face Fulham at the Madejski Stadium this evening in the second leg of the play-off semi-final, with the prize being a trip to Wembley for a shot at promotion to the Premier League. Both Fulham and Reading will fancy their chances of securing the win for a huge day out, in a fixture that has to be settled tonight. The Royals did all that was asked of them on Saturday evening, leaving Craven Cottage with a 1-1 draw to bring the tie back to the Madejski Stadium, and get home advantage, on level terms. It feels like we are half way there and on track to finish the job, but Fulham won't be too disappointed with the draw in the first leg and have their excellent away form this season to call on.

Things couldn't have looked better for the Royals on Saturday when the excellent Jordan Obita put Reading ahead on 53 mintues with a fantastic low effort from the left that found the back of the net off the far post. With an hour gone Reading had looked comfortable and we dared dream of bringing a win back home. However, Fulham equalised from Cairney with 65 minutes on the clock. Paul McShane was given a straight red on 80 minutes for a late challenge with his foot way off the ground, but Reading held firm despite playing with ten men. The great result was overshadowed by Jordan Obita staying on the floor after the referee's final whistle with what looked like could be a serious injury to his ankle.

Paul McShane will definitely be missing through suspension and Obtia remains a doubt after that late injury. Ilori came off the bench after McShane's sending off on Saturday and will now most likely start in McShane's place. Stam will have to shuffle around his defence, but we will all be hoping Obita has recovered after such an important role on Saturday. Gareth McCleary was an unused substitute on Saturday after coming back from injury but seems almost certain to play a part tonight.

Reading finished the season with the best home record in the entire Championship after winning 16 of our 23 home fixtures during the regular season. That impressive set of wins of course included a 1-0 victory over Fulham. Fulham's away record was only bettered by Champions Newcastle United. Impressive as it may be, the statistics still point to a Reading victory. However, the bookmakers still disagree, and it is Fulham listed as favourites to complete the win over Reading and go on to Wembley.

The tie is so finely balanced that anything could happen - and probably will. It should be quite some night at the Madejski Stadium. Away goals don't count in the play-offs so if the game is drawn, whatever the scoreline, the game will go to extra-time and potentially penalties. You wouldn't bet against the game going the distance. It's a game you really wouldn't want to miss, which makes it amazing that Reading have been unable to sell out the fixture. Tickets are still available to buy on-line and by telephone for both the Upper West and the South Stand.
Time To Ignore Play-Off History
12 May 2017
By Hob Nob Anyone?
Reading will be hoping to make it sixth time lucky as they enter the end of season play-offs after five historical disappointments. The play-offs were first introduced in 1987 and since then the Royals have been beaten in three play-off finals and gone out a further two times over two legs at the semi-final stage. This will be our fifth attempt to make it into the top tier via the play-offs.

Thankfully since our last play-off venture, six years ago, a lot has changed at the Madejski Stadium, which will hopefully make history irrelevant. The club has changed dramatically and none of the players that featured in the 2-4 play-off final defeat against Swansea City are now at the club. The management, owners and back-room staff have also seen big changes, which should allow everyone to ignore history.

It is stating the obvious, but Reading, along with the other contenders, will have a one in four chance of making it to the Premier League. All the teams that finished in the play-off positions have little between them and all are capable of beating each other. Despite Reading finishing third, three places and five points ahead of Fulham, it is Fulham that are firm favourites to make it to the Wembley final. Fulham are favourites for promotion, followed by Sheffield Wednesday and Huddersfield. Reading will remain labelled as underdogs after having that label all season long - despite finishing a massive 10 points clear of Leeds United in 7th place.

Fulham's tag of favourites has been earned by a strong finish to the season and helped along by their 5-0 victory over Reading at Craven Cottage earlier this season. As Jaap Stam was quick to point out in his press conference that result was a freak result with the Royals playing a big chunk of that game with ten men. No-one should expect a similar scoreline this time around. With no injury worries ahead of the game, Stam can take his pick of players and tactics.

As long as we can keep it close we can bring the game back to the Madejski Stadium on Tuesday night (16 May, 7:45pm kick-off) and try and finish the job. Saturday's away leg sold out immediately to season ticket holders with over 3000 loyalty points. Amazingly, there are still a handful of tickets available for Tuesday's home leg.


Reading's Play-Off History
Championship Promotion Odds
Fulham: 13/8
Sheffield Wednesday: 5/2
Huddersfield: 10/3
Reading: 9/2
Recent Meetings With Fulham
Ticket Details For Fulham Away Leg Revealed
08 May 2017
By Hob Nob Anyone?
Reading will take 2,000 fans to Fulham's Craven Cottage for Saturday's play-off final first leg. Fulham, and the other sides involved in the play-offs, have stuck to the "twenty's plenty" campaign and tickets will go on sale priced at £20 for adults, £10 for concessions and £5 for children. Initial sales of tickets will go on sale tomorrow morning to season ticket holders with over 3,500 loyalty points. Sales are then tiered over the following two days for existing season ticket holders depending on loyalty points. The structure means that only season ticket holders will be able to attend the fixture with the allocation certain to sell out before being opened up to non-season ticket holders.
Tuesday 9 May 09:00: Season ticket holders with over 3500 points
Tuesday 9 May 14:30: Season ticket holders with over 3000 points
Wednesday 10 May 09:00: Season ticket holders with over 2000 points
Wednesday 10 May 14:30: Season ticket holders with over 1000 points
Thursday 11 May 09:00: Remaining Season ticket holders
Thursday 11 May 14:30: Members with over 1000 Points
Meanwhile tickets for the home leg against Fulham at the Madejski Stadium on Tuesday 16 May are already on sale to all members with over 25 points. Season tickets holders are able to purchase two tickets each and have their seats reserved until Wednesday morning. Ticket prices are the same as for the Fulham away game with adults priced at £20.
Reading Finish Third To Face Fulham
07 May 2017
By Hob Nob Anyone?
Reading wrapped up the regular league season with a 4-2 away victory at Burton Albion, to secure third place in the Championship and set-up meetings with sixth placed Fulham in the play-offs. Reading's remarkable season has seen them finish in the highest possible play-off spot, which is fair reward after the Royals spent a good part of the season in third spot without ever featuring in the top two.

The win at Burton sees Reading enter the play-offs with seven wins out of their final nine games. Fulham and Reading were the only play-off placed sides to win on the final day of the season, so it's fair to say the two in-form sides have been matched together. Both sets of fans are likely to think they have a very difficult path to the final.

The first leg of the play-offs will take place at Fulham's Craven Cottage on Saturday 13 May with a 5:30pm kick-off. The crucial deciding second leg will be at the Madejski Stadium on Tuesday 16 May, getting underway at 7:45pm. The winner on aggregate will go on to the play-off final at Wembley Stadium on bank holiday Monday 29 May. Three games stand between the four contenders and a place in the Premier League next season, and surely Reading now have the same chance as the other three teams of making it all the way.

The win at Burton was a suitable ending to a season that has beaten all expectations. Jaap Stam opted for a strong line-up which featured essentially a first choice starting eleven with Paul McShane back from injury. The Royals raced into an early lead with goals from Joseph Mendes and Jordan Obita. Obita's cross-shot put the Royals firmly in the driving seat with just 21 minutes on the clock.

Yann Kermorgant is in the best goal-scoring form of the season, and probably his entire career. It was no surprise when he put Reading three goals up just after the hour mark. Burton, safe from relegation already, threatened to ruin the party with a late comeback but Grabban came off the bench to add Reading's fourth and secure the 4-2 win.
Final Championship Table
Reading Aim For Victory At Burton
05 May 2017
By Hob Nob Anyone?
Reading head to Burton Albion on Sunday for the final game of the regular season - and our first competitive trip to the Pirelli Stadium. The final away game of the season promises to be a fun day out for Reading's travelling fans who will take their random inflatables with them to take in a new ground while celebrating Reading's success so far this season.

The Royals have a 100% record against Burton after a 5-1 League Cup win back in 2009 and this season's 3-0 League victory in November at the Madejski Stadium. If the Royals can maintain that run, and notch up another victory over the Brewers, they will finish 3rd in the final Championship table and will be going on to face Fulham in the Championship play-offs.

Burton will have nothing to play for after a successful season saw them survive in the Championship after last season's promotion. They were favourites for relegation at the start of the campaign and have done very well to stay clear of the drop zone and confirm their place in the Championship for next season with games spare. Burton have finished the season strongly with wins against Birmingham City and Leeds United, and a draw against Barnsley in their last three games. Burton did the Royals a big favour with their 2-1 win over Leeds, but as it turns out Reading's results were more than enough to secure a play-off spot with Leeds missing out.

There's been plenty of discussion on who Reading should face in the play-offs and whether home advantage in the first or second leg is best. That discussion has extended to suggesting that a defeat in this match wouldn't be a bad thing. That's total, complete nonsense. A win will set us up properly for the play-offs and see us finish third in the table. The higher finish the better, and having the home leg in the second game will be a huge bonus for the Royals. Jaap Stam has made it clear he will be aiming for a win and a strong finish on Sunday: "We're going to give it our best shot. We want to finish the final game well as we don't want to go into the play-offs with a disappointment."

A win is obviously what we want. Fulham may have finished the season strongly and will have good form on their side, but I'd prefer to face them over two legs in the semi final rather than a one-off game at Wembley Stadium. Reading are not expected to make it through the play-offs by bookmakers, the general public, and their own fans - which is definately a good thing. We've sneaked in under the radar all season, and let's hope it can continue until the end of May.

Jaap Stam remains likely to field a strong side, unlike Huddersfield who, having already secured their play-off spot, decided to rest most of their team for last weekend's 0-2 defeat at Birmingham. Huddersfield got in hot water over that but Reading will probably avoid such trouble. However, Stam may choose to shuffle his starting eleven around as he has done so many times this season. Stam will take the chance to rest key players, while Garath McCleary and Paul McShane will miss out as they recover from injuries. That may see some fringe players get a last run out and a chance to prove themselves ahead of the crucial play-off games.
Meetings With Burton Albion
Assessing Reading's chances of play-off glory
05 May 2017
By Hob Nob Anyone?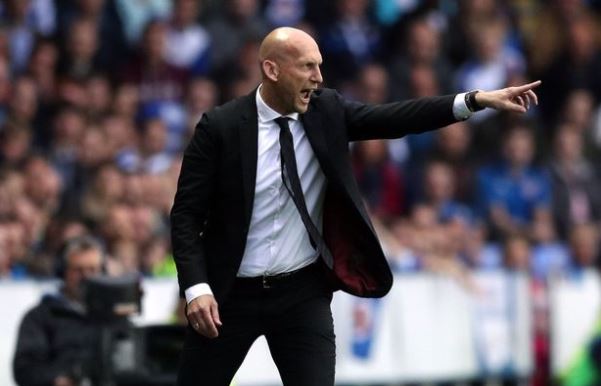 Reading are finishing their league campaign in good form, with six wins in eight, but whether their closing matches provide the right preparation for their play-off fixtures is more debatable.
Used to possession play
Reading's play for much of the season, especially against the bottom six teams they have faced in their run-in, has been expansive. They have spaced out their centre-backs, pushed their full-backs up, played in their own half to invite pressure from the opposition and then moved through the resulting gaps. The physical presence of Yann Kermorgant, Reading's 17-goal marksman, gives them the chance to play balls over the midfield and then resume their patient probing further up the pitch.
That approach has served them well this season, but it has also left them prone to capitulations on the road. In 11 away games at top half opposition, they have lost by three or more goals on six occasions and shipped seven in their worst display of the campaign at Norwich last month.
Conscious of this, manager Jaap Stam hinted on BBC Radio Berkshire that in the play-offs, he will change his open approach to accommodate the opposition. While continuing to beat the lesser sides might seem like a morale-boosting way to enter this competition, it has not given the Dutchman a chance to dry run a more pragmatic system.
Key figures at the back
Success therefore, is likely to hinge on the performances of Ali Al-Habsi, who was recently voted Player of the Season. The Omani goalkeeper has kept 10 clean sheets in 23 games at the Majedski Stadium including four against top seven opposition, conceding twice there only to Brighton, Aston Villa and Brentford. Though more exposed on the road, he put in a man-of-the-match display at Sheffield Wednesday to aid a 2-0 win at a crucial time.
A close contender for Al-Habsi's award has been Liam Moore, who impressed at this level with Leicester City. Whilst proving a competent defender given the right protection, Moore also combines a high pass completion ratio of 86% with the capacity to switch play effectively.
Moore though will hope to be helped by the return of key defensive performers from injury. Joey Van Den Berg excels in a defensive midfield role due to his strength in tackles, of which he makes 2.2 per game, more than any player in the team. Fellow absentee Paul McShane is a little more restrained but instead adds intelligence and leadership qualities, with both 31-year-olds hoping to return for the first leg.
McCleary's injury
Further up the pitch, there are also fitness concerns surrounding Garath McCleary. The ex-Forest man assisted Kermorgant's sixth minute winner in the 1-0 victory over Wigan, where he was one of the brighter first half performers, but limbered off just before the break. McCleary signed a new long-term contract in January, but a lingering groin injury has hampered his form over the last month and Stam has suggested he needs surgery this summer, meaning he may struggle to influence Reading in the play-offs.
That could be a huge blow, given that the 29-year-old has made more dribbles per game (1.4), played more key passes (two) and made more assists (nine) than any other player at the club. His likely absence may be partly why at the time of writing (02nd May), Reading are as big as 9/2 odds to win promotion with Betway Sports, such is their reliance on the winger's form. In a possession-based side, it is important to have players who change the direction of play by being brave on the ball and moving quickly in tight areas.
With McCleary either missing or limited to substitute appearances, who will provide those qualities? There may be increased responsibility on Roy Beerens to step up a level. The summer signing from Hertha Berlin has grabbed six goals, four against Reading's three play-off competitors including a brace in December's 2-1 home win over Wednesday. In other games however, most recently Saturday's uninspiring performance against Wigan, Beerens has been anonymous.
Grabban the chance
Equally, there could be opportunities for Lewis Grabban, whose second half introduction instigated a second half turnaround in last month's 2-1 win over Rotherham. The following week at Villa Park, Grabban partnered two-goal man Joseph Mendes in a 3-1 victory, the duo successfully leading attacks in front of a disciplined midfield.
That compact 3-5-2, with a little less possession but quick balls into the forwards, may be the team's best approach. It may be particularly useful in the semi-final first leg, with the team in need of a different plan of action away to strong opposition. Any tweaks to the current setup however, there is little time to exercise.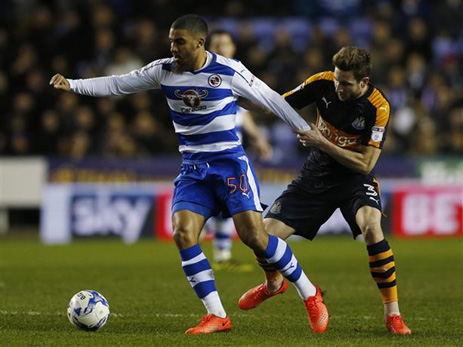 Against the odds

The bookies consider the Berkshire outfit as the least fancied team out of the four contenders, despite them having more points than Fulham, Wednesday and Huddersfield. To defy the odds, to bring Wembley glory to the Royals and to end the club's four-year top flight exile, Stam must replace McCleary and the players must respond quickly to different tactical demands.
Play Off Teams And Dates Confirmed
02 May 2017
By Hob Nob Anyone?
Saturday's 1-0 home victory against Wigan Athletic was one of the least exciting home performances of the season so far - but Yann Kermorgant's eighth goal in eight games was enough to confirm Reading's top six finish and a place in the play-offs. The result also meant that Wigan completed their relegation to League One. Of more interest to Reading fans, the day's results ensured that Leeds United will miss out on a top six place and the four play-off contenders are now confirmed. The play-offs will involve Reading, Sheffield Wednesday, Huddersfield and Fulham battling to earn promotion to the Premier League.

Reading's win means they are third in the table with one game left to play, a point ahead of both Sheffield Wednesday and Huddersfield. Fulham find themselves four points behind Huddersfield - meaning they are now guaranteed a sixth placed finish regardless of the outcome in their last game. If Reading can win at Burton Albion in their final game of the season on Sunday, they will be guaranteed a third placed finish and will therefore play Fulham over two legs. Despite the table suggesting Fulham are the weakest team in the play-offs, many think differently and are hoping to avoid them in the semi-finals. Given our history in the play-offs I'd prefer to get the toughest game out of the way first to reduce the risk of more play-off final disappointment at Wembley.

A win at Burton would be great for the confidence, and end the season on a high in third before travelling to Fulham, in an attempt to do far better than our last showing there when we lost 0-5. If we can get maximum points on Sunday we would travel to Fulham for a 5:30pm kick-off on Saturday 13 May. The home leg would then take place at the Madejski Stadium on Tuesday 16 May at 7:45pm.

If Reading fail to win at Burton then our final position would depend on how Sheffield Wednesday and Huddersfield finish their regular season on Sunday. Any one of the three teams could finish 3rd, 4th or 5th. The best outcome is to finish 3rd or 4th as that would mean playing the first leg away before brining the opposition home knowing exactly what needs to be done to make it to Wembley. Should Reading slip to 4th or 5th then they would play on Sunday 14 May at 12pm and Wednesday 29 May with a 7:45pm kick-off. Although it's very optimistic at this stage, it's still worth getting Monday 29 May 2017 in your diary - as that's the date of the Championship play-off final at Wembley Stadium.


Championship Table at: 02 May 2017
Pl
HW
HD
HL
HF
HA
AW
AD
AL
AF
AA
GD
POINTS
1
Brighton
45
17
3
3
46
14
11
5
6
27
25
+34
92 (P)
2
Newcastle
45
14
3
5
46
23
14
4
5
36
17
+42
91 (P)
3
READING
45
16
5
2
35
16
9
2
11
29
46
+2
82
4
Sheff Wed
45
15
2
5
35
20
9
7
7
24
23
+16
81
5
Huddersfield
45
15
2
5
34
23
10
4
9
22
32
+1
81
6
Fulham
45
10
8
5
45
32
11
6
5
38
24
+27
77
7
Leeds
45
14
4
5
32
16
8
4
10
28
30
+14
74