Well I don't know how it happened but after two seasons of complete and utter cr@ppy cr@p, from Cr@pton in deepest Cr@ptonshire, an inspired management change that had lots of us slagging the board and slating Jaap before a ball had even been kicked has seen the club rise up to earn a place in the most valuable game in the world.
Jaap Stam on being appointed
After a slow start to the season, with plenty of discontent from the great unwashed at the style of play, Reading crept up the table and kept on creeping until the top six was reached in October. Then, as the pundits would seem to want you to believe, just like that embarrassing bad stain on the carpet - where your curry went when the cat decided to mistime a jump onto that coffee table that you'd been meaning to take up the tip, before West Berkshire decided to pull out of the agreement with the recycling company that the rest of Berkshire uses and you lost the list orange car sticker thing that you need to prove you're not daring to pull a fast one – the club refused point blank to be removed.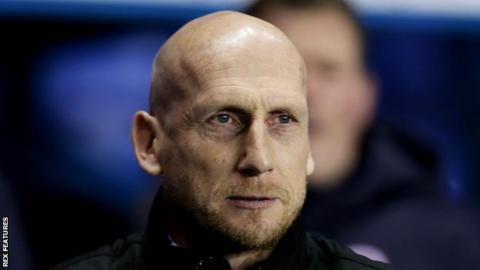 Jaap on discovering he's lost his recycling pass
The discontent largely faded as the season drew on apart from a few diehards who still have not bought into the dream of a team that plays the ball about patiently before an unforced error presents the opposition with a gilt edged opportunity that Ali Al-Habsi brilliantly denies – well just not at Norwich, Fulham, Newcastle, Brentford etc.
And that's probably why the pundits steadfastly refuse to believe Reading are any damn good as the team have never been convincing and rarely look comfortable - especially if you take them away from Berkshire – but the point is they still grind out the results and only two teams in the league were more consistent at doing that (and one of those splaffed god knows how many millions to get there).
Jaap on seeing another result being ground out
Then after too short a season Reading got a play off berth against the greatest team the world had ever seen, so the media would have you believe, and again ground out the required results much to the dismay of everyone who had bought into the Fulham lovefest.
One wonders though if we now have some "derby" opponents frothing at the mouth for future games after Reading's apparent refusal to just roll over and die like they were supposed. How very dare Reading get organised and have the temerity to play to their strengths instead of trying to play like Fulham.
Jaap delighted with the play off victory
And now to the most valuable game in the history of the world…..
Almost £200 million is said to be up for grabs in this one in terms of what the PL can give a team. Imagine that, that's about 26 Gylfi Sigurdssons (or 2500 Kevin Doyles). So some kind of cool head might well be the order of the day
Huddersfield, like Reading, are also suffering from media neglect. Widely dismissed in favour of the Sheffield "massive" they too have had to suffer the vitriol of having the temerity to not roll over a die and let the "proper" footballers take control of things.
Like Reading they've gone largely under the radar after a previous season of utterly forgettable cr@p and probably amazed their fans in the process.
Largely slight favourites to win, probably on account of the pundits hatred of the fact Reading stopped their West London lovefest, Huddersfield are a well organised, well drilled team who also like to try and bore the opposition to death.
And the similarities continue, like Reading they have no out and out stars they are a team who work hard for each other and a team you need to watch carefully as you're not quite sure where the threat will come from. Kachunga, Mooy and Reading's scourge Nakhi Wells are the obvious names that spring to mind but they have a more than useful squad with the likes of Lolley, Bunn, Billing and Quaner. Plus, being liberally sprinkled with a few Germans, you'd generally want to keep them well away from any hint of a penalty.
Reading will have no McShane (suspended) and Obita is still a doubt for the game while I believe Huddersfield have a fully fit and available squad to select from. Reading will, however, have the additional options of Jake Cooper and Paolo Hurtado back from successful loan stints with Millwall and Vitoria respectively so there are options for a curveball to be thrown into the mix.
Referee
Fresh from duties of refereeing the ordinary stars of the Premier League, Lancashire's Neil Swarbrick will be trying to keep things in line and, hopefully, showing common sense in the process.
Semaphore specialists for the day will be Jake Collin and Darren Cann
Stuart Attwell will be the 4th official.
Previous games under Mr Swarbrick
31 Oct 15 > Reading 1-1 Brighton & Hove Albion
07 Mar 15 > Bradford City 0-0 Reading (FA Cup)
08 Nov 14 > Reading 0-1 Charlton Athletic
18 Sep 13 > Reading 1-0 Leeds United
04 May 13 > Fulham 2-4 Reading
11 Dec 12 > Sunderland 3-0 Reading
10 Dec 11 > Reading 3-0 West Ham United
05 Mar 11 > Reading 5-2 Middlesbrough
03 Oct 09 > Reading 0-2 Middlesbrough
28 Feb 09 > Reading 0-1 Nottingham Forest
Refereeing his first final, Mr Swarbrick has amassed 1202 bookings and 62 dismissals in his 12 years and 408 games in charge since he first hit the FL.
History
Games between the two teams this season have been very tight with a 1-0 win for both sides.. Can't really see Wembley being any different with another game of chess the likely order of the day as Germany meet Holland in the battle for manager of the season
Unsurprisingly this is the first game the sides have played on neutral territory and looking down the years Huddersfield have made 3 losing trips to Wembley in the FA Cup final (the last being in 1938) but did win the last FA Cup final to be played before the final moved to Wembley in 1923.
Their play off record sadly rather makes up for this, they've played two previous play off finals at Wembley and won both (as well as winning a third at the Millennium Stadium while Wembley was being rebuilt). The only final they lost was year the third division final was played at Old Trafford.
Reading's record at Wembley is outstanding – as long as you only count what the rest of the country would class as second class competitions. Aside from that Simod Cup win Reading have visited Wembley 3 times and managed to lose on every occasion and conceded 10 goals in the process (although they have managed 6 goals in reply).
This is not for the faint hearted, Reading's play off final excursions have a tendency to promise a lot before the arrival of a big kick in the teeth – usually in the last minutes. Swansea was the exception where the club decided to opt for a kick in the teeth to both begin and end with.
Finally, it seems some things never change and the media really do not have Reading on their radar, given the last time SSN broke the news of the club's last playoff failure
PS - Of course, it's also time to resurrect our old friend and hope we're all in the same state when the final whistle goes on 29 May.